Learning should be fun!
It's the Fall Book Club You've been waiting for!
🍂📖Grab your cozy sweater, fall boots, warm blanket, and a great homesteading book! Fall is here and waiting for readers to enjoy a great book by the harvest sun or in the shade of the red and orange leaves of a tree! 
The Homesteading Fall Book Club is a one-of-a-kind reading program featuring over 40 homesteading themed, book-inspired, digital learning packs to make your autumn reading festive and full of harvest learning opportunities! These amazing units have been thoughtfully created by some of our favorite curriculum writers and resource creators with our fall book club in mind! Your child can choose any of the titles from the list of 40+ fall harvest favorites, and then complete the companion unit to allow for interest-led, child-guided reading fun!
Only $25 thru Sept. 14th (then it goes up)!
Grab Yours Here: Fall Book Club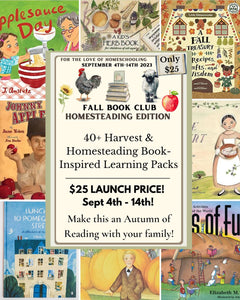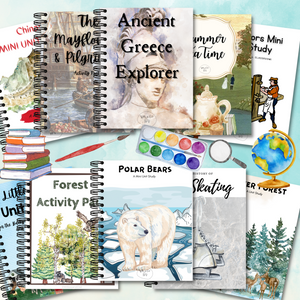 Our Easy Curriculum
Our whole family unit studies lay a foundation for learning in the easiest format with complete customizable control.
Created in a simple layout, you can automatically decide what materials you need, what pages you need to print, or what style you want to teach in.
The curriculum offers a wide varitey of information, often including nature preservation resources, links for further learning, books for reading, and hands on materials that compliment the lesson to engage students with a range of abilities!
You can also select the depth of the lesson you want:
Activity Packs- Fun activities including puzzles, games, worksheets, and easy learning materials.
Explorers & Unit Studies- Reading material including activities, games, crafts, and worksheets.
Cards & Journaling Pages - Simple add on pages that can be paired with any related lesson, story book, or unit!
What's Happening...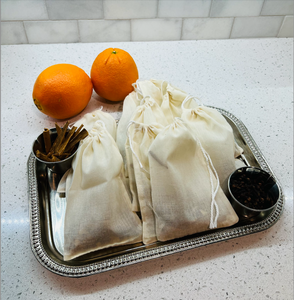 Fall Gifts for Friends & Family
As the Autumn season approaches, welcome it with these simple homemade gifts for friends, family, and enjoy an easy Tea Time with wonderful aromas.
Read More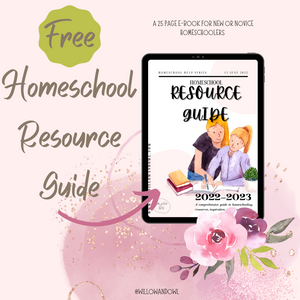 Beginning Homeschool? Need a Refresh? Start Here!
Get loads of ideas and creative plans with our FREE Resource Guide!
Download Now!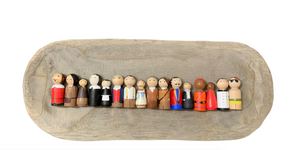 Become a Brand Influencer!
I'm looking for a few Brand Ambassadors to start sharing Willow & Owl's products in the coming months. 
If you love Willow & Owl, and want to share our products on your IG and FB account, please consider becoming an ambassador!
-You will get one free product of $6.00-8.00 month. 
-25% Discount on all products for you. 
-15% discount for your followers. 
-You simply need to Follow & Interact with Willow & Owl's Instagram & Facebook accounts. 
-Have a public account with at least 1k followers. 
-Share one post and one story for each free product. *The photos must be good quality and showing little hands using our resources. 
Apply Now
This reading pack was a nice addition to our homeschool curriculum! My daughter loved the coloring pages!

{The Sea in Winter Book Companion Pack}

Victoria
This product was so thoughtfully done. The artwork is gorgeous and the links provided make this a great, easy, and fairly thorough unit!

{The Ireland Explorer, Unit Study}

Kathryn
I have previoulsy purchased the October Tea Time pack, and we LOVED it! We love to do a monthly tea time with friends, and these tea time packs make my job SO MUCH EASIER!

Lynette
Beautiful anatomy breakdown, with great illustrations. This Bamboo mini pack goes very well with the China mini study. Highly Recommend.

Kris
Super cute unit :) This is a great addition to our homeschool lessons! Activities are well instructed. Will be purchasing more soon :)

(Mayflower & Pilgrim Activity Pack)

Hillary
We got our Indigenous people set today and it's adorable! Can't believe how fast you sent it out and loved the little drawstring bag for storage!

Robyn
All of Willow & Owl's resources are beautiful, educational and fun and this one is no exception! We love it!

(Going to Grandma's House Activity)

Abby
Adorable and beautifully painted. I'll be back to get more!

Sandra
So excited to use these lessons with my children. They are beautifully made and well thought out. I can't wait to dive in!

Jenn