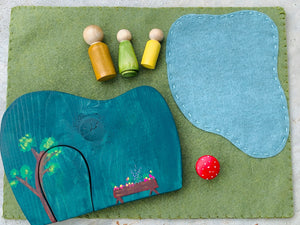 This bundle comes with 3 basic colored peg dolls, a felt playmat, a small mushroom, and medium wood home.
Your young one will enjoy hours of imaginative play! Add a story or music to create a flow of learning while they play too. You can switch up peg dolls and accessories or create a village for more complex fun!
Each item is handmade by me, so details may vary from picture as resources are or are not available. If you want to customize something, please message so we can determine the possibilities.