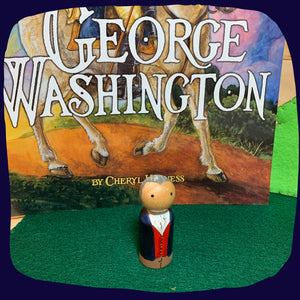 This George Washington, President Peg doll is a great addition to your History or President Unit Studies!!
Montessori/Waldorf inspired Peg Doll set that is great for pretend & imaginative play. Works well with Felt play scapes and Safari Toob sized toys.
Each doll set is handmade and made to order. Suitable for all ages. Playscapes not included. Book not included.
Dolls are 2.5".
Lightweight, great for travel.
Please note that each item is hand made and there may be slight variations in color or shape. I do my best to match the image listed.
Wooden pieces are painted and sealed with non-toxic materials. Please use caution when small children are playing.
Add a Felt play mat to build a scene!