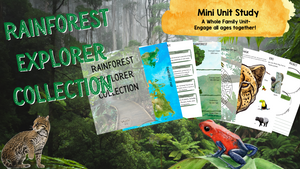 Have you ever visited a Rainforest or wanted to learn more?
This mini unit study is a great way to kick start interest with history, purpose, and preservation! Go on a virtual field trip to the Rainforest, Explore who lives there and who takes care of them! Then have fun with projects, and listening to the sounds of the Rainforest!
Included Inside this 30 page lesson: 
*Lesson including Indigenous People
*Link for videos and books
*Vocabulary Word Cards
*Animal Anatomy (includes our two anatomy packs for Ocelot & Paca)
*Writing Activities
*Puzzles
*Maps with Cut-Outs
*Coloring Page
 Projects
*A Free Bonus
Research Conservation 
& More!

 
Made for children 6-12, but not limited to those ages!